Homes in Greenwood Village, Colorado
Greenwood Village is widely known for the Denver Tech Center, metropolitan Denver's largest business center where many of the West's largest companies have their corporate headquarters. The community is also among the southern corridor's most prestigious addresses for residential properties in neighborhoods featuring mature trees and a wealth of highly desirable amenities. Greenwood Village offers more than 300 acres of parks and a trail system that provides 40 miles of scenic biking and walking paths. The Fiddler's Green Amphitheatre has a capacity of 18,000 people and is the largest outdoor concert theater in the Denver area that hosts world-famous performers throughout the summer and early fall.

Greenwood Village includes multiple golf courses, and Club Greenwood is a highly regarded athletic facility offering a gym, basketball court, physical therapy, a spa, plus a coffee shop. The Belleview Promenade is a shopping mall where a variety of people representing a wide range of professions enjoy exceptional restaurants, such as Shanahan's Steakhouse which is regarded by many as the finest steak restaurant in metro Denver. The homes in Greenwood Village represent a variety of architectural styles, including Cape Cod, Colonial, Mediterranean, and Tudor. Horse properties are also available along the High Line Canal and Trail where residents enjoy a naturally intimate environment.
List of Zipcodes
| Zip Code | Zip Code Name | Zip Code Population |
| --- | --- | --- |
| 80111 | Centennial | 32,120 |
| 80112 | Centennial | 38,146 |
| 80121 | | |
| 80237 | | |
Demographics
| | Zip Code | City | County | State | National |
| --- | --- | --- | --- | --- | --- |
| Population | 4,270 | 11,393 | 654,892 | 5,759,582 | 331,426,769 |
| Population Density | 49.4 | 7,284.6 | 820.6 | 55.5 | 93.8 |
| Percent Male | 49.0% | 49.0% | 49.0% | 49.0% | 49.0% |
| Percent Female | 51.0% | 51.0% | 51.0% | 51.0% | 51.0% |
| Median Age | 50.8 | 42.7 | 38.9 | 40.2 | 39.0 |
| People per Household | 2.6 | 2.7 | 2.5 | 2.8 | 2.6 |
| Median Household Income | $106,904 | $111,761 | $75,120 | $115,942 | $61,963 |
| Average Income per Capital | $52,013 | $61,163 | $40,034 | $50,725 | $33,235 |
Market Data
| | Zip Code | City | County | State | National |
| --- | --- | --- | --- | --- | --- |
| Median Sale Price | $725,000 | $625,000 | $402,500 | $425,100 | $277,796 |
| Median Age of Home | 37.0 | 50.0 | 47.0 | 39.0 | 49.0 |
| Homes Owned | 86.0% | 72.0% | 61.0% | 67.0% | 58.0% |
| Homes Rented | 10.0% | 24.0% | 34.0% | 23.0% | 31.0% |
| Homes Vacant | 5.0% | 4.0% | 6.0% | 4.0% | 11.0% |
Market Trend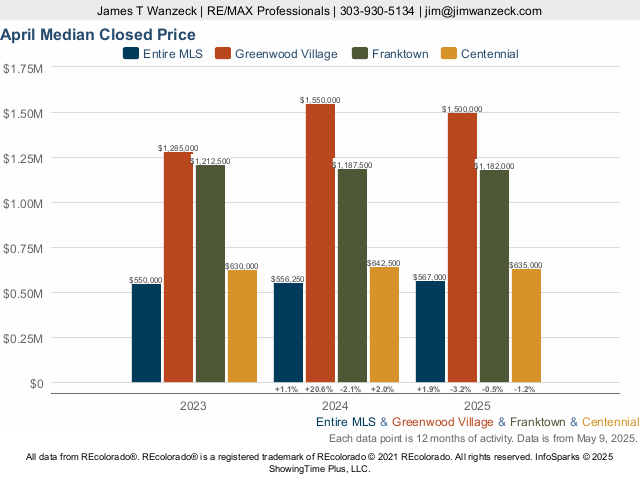 35 properties on market
Contact Us
RE/MAX Professionals
6020 Greenwood Plaza Boulevard
Greenwood Village, CO 80111, USA
Valuation Index
Quality of Life - 90%
Climate & Environment - 75%
Schools & Education - 73%
Safety & Crime - 17%
Quality of Life
| | Zip Code | City | County | State | National |
| --- | --- | --- | --- | --- | --- |
| Cost of Living Index | 110.0 | 119.0 | 102.0 | 110.0 | 100.0 |
| Health Cost Index | 121.0 | 130.0 | 114.0 | 119.0 | 100.0 |
| Commute Time | 25.0 | 20.0 | 25.0 | 25.0 | 24.8 |
| Commuting by Bus | 0% | 2.0% | 3.0% | 1.2% | 2.1% |
| Commuting by Carpool | 7.0% | 8.0% | 11.0% | 11.0% | 13.5% |
| Commuting by Auto | 76.0% | 83.0% | 81.0% | 80.0% | 79.1% |
| Working at Home | 16.0% | 6.0% | 4.0% | 5.2% | 4.7% |
Walk Score®
Climate & Environment
| | Zip Code | City | County | State | National |
| --- | --- | --- | --- | --- | --- |
| January Average Low Temperature | 13.6 °F | 15.9 °F | 15.9 °F | 13.7 °F | 22.6 °F |
| July Average High Temperature | 84.0 °F | 89.5 °F | 89.5 °F | 77.5 °F | 86.1 °F |
| Annual Precipitation (inch) | 17 in. | 18 in. | 18 in. | 19 in. | 38 in. |
Schools & Education
Safety & Crime
Zip Code
City
County
State
National

Violent Crimes

Calculated annually per 100,000 residents

Assault
162.9
487.8
291.4
246.3
250.2
Murder
2.2
0
7.2
3.8
5.0
Rape
70.4
56.3
79.5
67.2
42.6
Robbery
123.3
43.8
164.1
63.6
81.6

Property Crimes

Calculated annually per 100,000 residents

Burglary
223.7
531.6
461.7
348.4
340.5
Theft
360.4
3,633.8
2,008.4
1,858.3
1,549.5
Motor Vehicle Theft
603.0
387.8
569.1
384.0
219.9
Take a photo of this QR code
to keep this website details